KROWA is honoring beauty from within by putting back in what the modern world left out.
Guided by the principles of an Ancestral Lifestyle, we set out on a mission to empower women to express their highest and most beautiful form. As the world's only animal-based beauty brand that appreciates the premium bioavailable vitamins, stem cell proteins, and growth factors that were accessible to our ancestors, our commitment to nature reflects in our nutrient-dense products, which are effective and environmentally sustainable responses to a toxic beauty industry that undervalues the real you.
Honoring every cell of the human body so that it's able to express itself freely in the world is our idea of beauty. To us, the concept of beauty is a deep, indigenous one that values moral goodness and a harmonious nature. To our ancestors, beauty was a consequence of hard work, kindness, courage, and generosity, as stories of the past describe beautiful women by their personal traits, not only their physical appearance.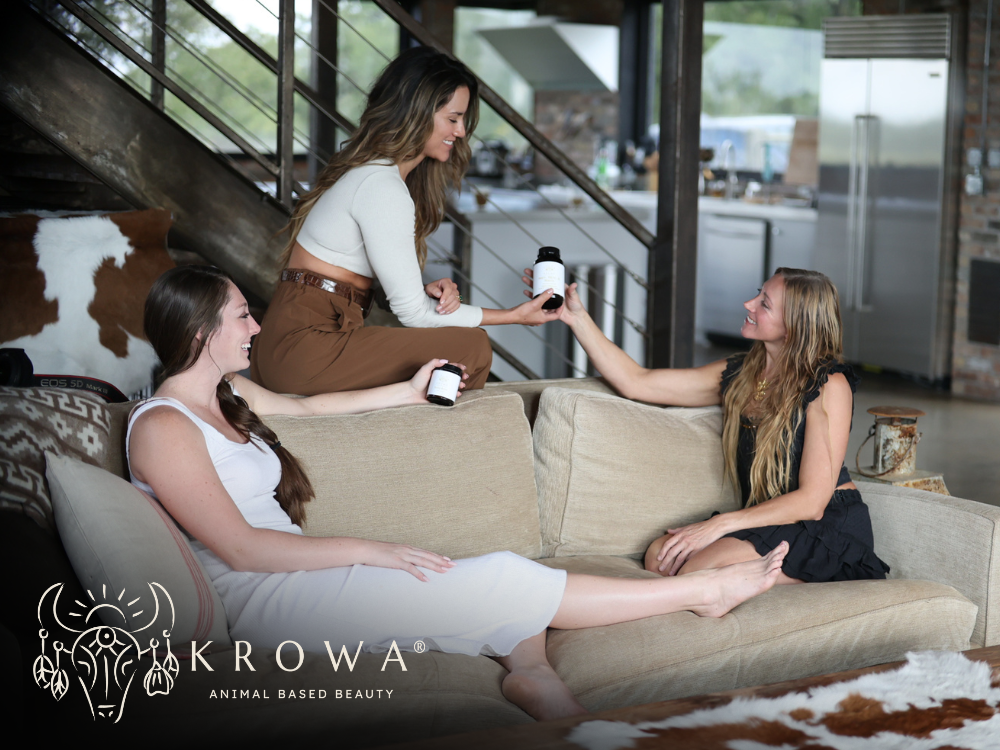 That's not to say that we don't believe in putting forth any effort into presenting your best self to the world… We value hard work and discipline, and believe in the power of practicing The 9 Beauty Basics which offer a sound framework to achieve strength, health, beauty, and happiness. 
We've taken rigorous notes on the practices of our ancestors and have found modern solutions to return to their wise ways. Ancestral beautification and grooming methods celebrated the magic of the face and body with organic materials, and rather than masking or manipulating them to an "ideal" state, they accentuated and highlighted physical attributes deliberately, artfully, and naturally. This is in direct conflict with the idea of beauty that the modern world sells us, which encourages women to conceal their "imperfections" and inject their "flaws" away. The modern world wrongly conditions us to fear the natural signs of aging, leading us to believe that beauty will be achieved with toxic chemicals and experimental procedures.
Like the wise women who came before us, at Krowa we champion the idea that beauty is found in our actions and words, in the lives that we touch, and in the legacy we leave behind. We believe in connecting to a greater whole by helping women unveil the best versions of themselves, and in reaching deep within to honor the natural and abundant beauty in the world around us.
From the blog
Animal Based Beauty | The Blog
Written by Karla Galvan Not long ago, endocrine disruptors, EMFs, and heavy metals were not things that occupied my mind. Already...
Written by Karla Galvan Not long ago, endocrine disruptors, EMFs, and heavy metals were not things that occupied my mind. Already...
Testimonials
"I absolutely love these products! I began using the face products and my face has never had such a beautiful glow. My skin is thriving! I love Krowa Beauty and everything this company stands for! Can't wait to try the Hair, Skin, Nails!"
Shanette M.
"I am in love! I've searched high and low for a face balm that is natural and pure. I need not look any further and I am thrilled about it. Not only is it the highest quality ingredients, but the smell is DIVINE. Everyone needs Krowa in their life!"
Sarah H.
"I have had oily skin my entire life and struggled with finding moisturizing products. The morning face balm balances out my skin and doesn't cause breakouts. There's nothing harmful in this...you can't beat that!"
Karla G.
Check Out The 9 Beauty Basics
Click the button below to view our free resource The 9 Beauty Basics which was developed to help you thrive and cultivate beauty from within.